Europe's biking capitals: Amsterdam, Copenhagen, Strasbourg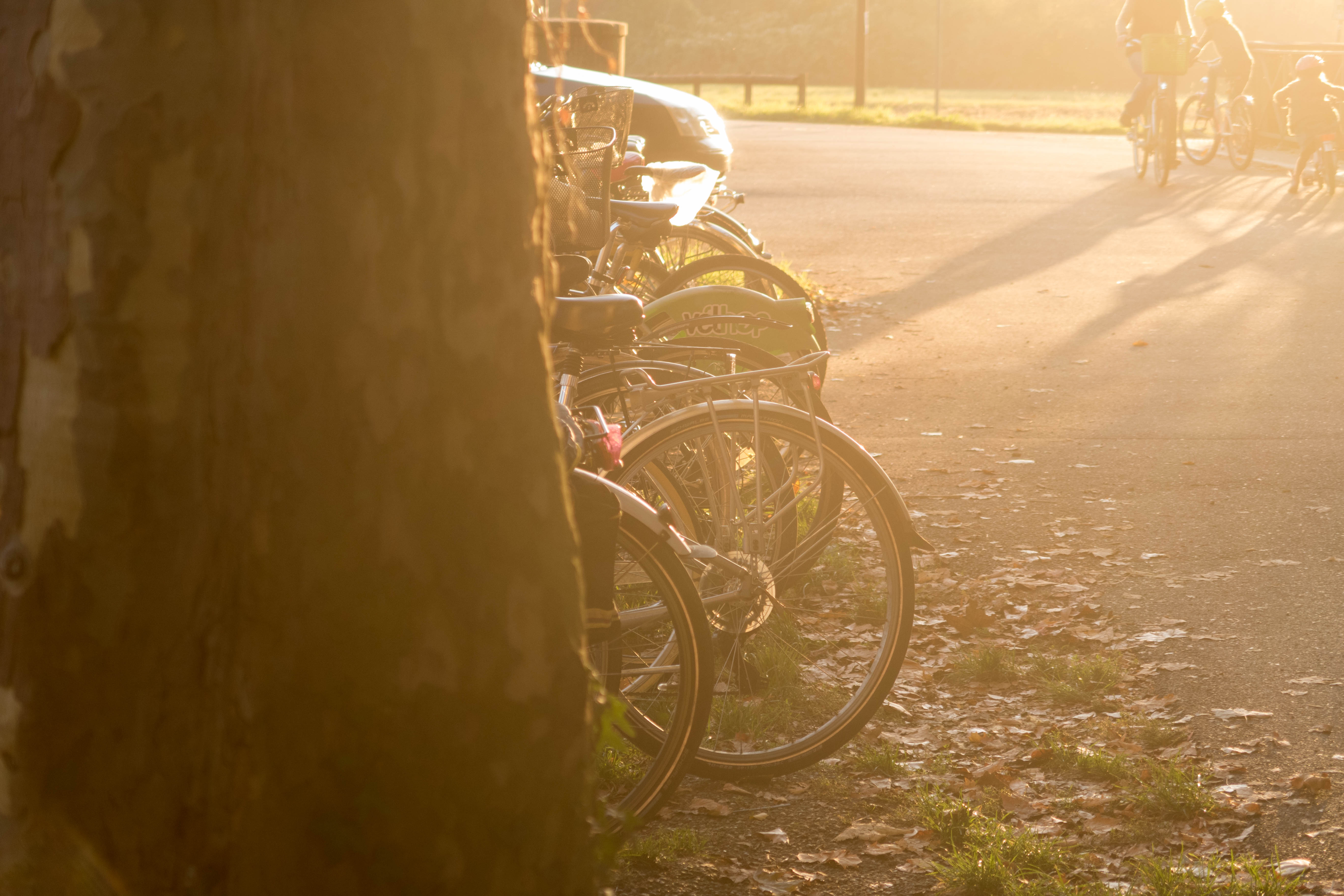 Europe's biking capitals: Amsterdam, Copenhagen, Strasbourg – Bike tours, how to rent a bike, & a couple historical/fun facts on how they became the bicycle capitals of the world
Before I moved to Strasbourg, I was told many things: that it was "very cute", "a great city", that "people were nice", and that "I would love it". Which is true.
However, no one ever told me that Strasbourg was a kind of 'French-Amsterdam', which is exactly what I thought when I first arrived in Strasbourg. Or that Strasbourg was the biking capital of France.
Yet, like in the Capital city of the Netherlands, several (ok maybe not as many) canals run through the city of Strasbourg. And what is more, there are bikes and bikers at every corner.
---

A bike-park by a bus stop in Strasbourg
---
*
It turns out that Strasbourg ranks 4th among top bicycle-friendly cities in the world, according to the Copenhagenize Index, which has been published annually since 2011. As for the Dutch capital, it ranks 3rd, after Copenhagen slid past Amsterdam into 1st place in 2015.
Truth be told, there is still a huge gap between Copenhagen, whose inhabitants are 62% to ride a bike to commute daily, Utrecht and Amsterdam (38% ride bikes daily in the Dutch capital and on average 27% of the Dutch people commute by bike), and Strasbourg, with 16% of bike commutes.
Strasbourg only entered the ranking in 2015; yet, changes did not happen over night. As a matter of fact, this late entry was only due to the fact that before 2015, the French census did not list 'non -motorized bikes' as a means of transportation -so there was no data. As for the 'real' transformation of Strasbourg into a cycling heaven, it dates back to the 1960s and 1970s. And funnily, the transformation of Amsterdam into 'the bicycle capital of the world' happened around the same time, and in a very similar way.
The giant bike park by Amsterdam's Central Station.
How did Copenhagen, Amsterdam and Strasbourg became such paradise for the cyclists?
In the 1960s and the beginning of the 1970s, like everywhere in the 'Western world', the inhabitants of Strasbourg, Copenhagen and Amsterdam were slowly abandoning their bikes, and the number of new cars in the cities was sky-rocketing. And so was the number of traffic accidents.
In 1969, in Strasbourg, a mother was killed in a traffic accident. Two years later, in 1971, over 400 children died in similar circumstances in Amsterdam. That it what it took for inhabitants to join forces and opposed the colonization of the cities by the automobile. In 1975, a preacher named Jean Chaumien established in Strasbourg an organisation called 'Comité d'Action Deux-Roues' (CADR, which translates as 'Two-wheels Action Committee'), while in Amsterdam, several protests were organized by action groups, among which the most prominent was  'Stop de Kindermoord' ('stop the child murder'). With the combined pression of the activists and the oil crisis, the local authorities started to adopt more bicycle-friendly transport policies.
Interestingly, activist groups and local politicians also held joint seminars gathering counterparts from the Netherlands, Germany, and France.
In Denmark, it is in the late 1970s and 1980s that cyclists started to protests against the expansion of motorways, and the relation between public health and the multiplication of cars within the city became a major source of concerns.
As of today, there are over 450 km of cycle tracks and 16 new bridges (built or under-construction) for cyclists and pedestrians only in Copenhagen, 400 km of cycle path in Amsterdam, and 600 km in Strasbourg and in the neighboring towns. In Strasbourg, those paths are especially wide: a car could fit in those ways, and the lines separating between the people on foot and on bike are drawn on the floor -which can be tricky when you come from a city where no one bikes, and you don't have to mind cyclists on the sidewalks.. In the cities of Copenhagen, Amsterdam (and Strasbourg), the authorities not only focus on building more tracks but also on ensuring the safety of the riders, and their access to public facilities (be it bikes, parking space, or even the ability to carry your bike in the subway or in a cab!).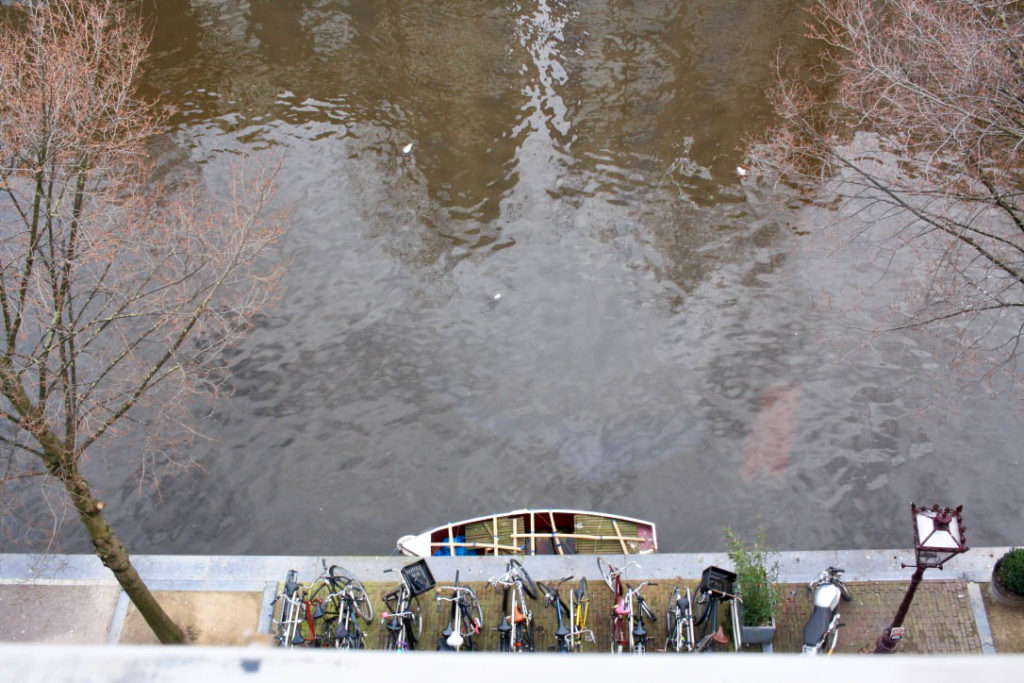 A mini bike-park by a canal, in Amsterdam.
---
*
Visiting Copenhagen  / Amsterdam / Strasbourg by bike
Given the fact that they are very well-known for their 'bike culture', Copenhagen and Amsterdam offer many options to travel and do sight-seeing by bike.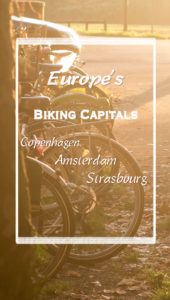 Hence, Iamsterdam.com, the online website of the organisation promoting tourism in Amsterdam and its region, lists many bike tours, whereas Amsterdam.info lists of few of the different shops when one can rent a bicycle. Besides, in the city center, one cannot miss the several signs for the cycle shops, that offer various tariffs on bike rentals.
Likewise, the tourism organisation of Copenhagen VisitCopenhagen.com lists both rental shops, and bike tours. The online magazine Scandinavian Standard also published a short yet informative (and beautifully illustrated!) article on deals and shops where you can rent a bike.
Things are a bit different for Strasbourg.
I personally find the website of the tourism organisation of Strasbourg not so helpful: they mention the fact that they sell a map of cycling paths and tours for €1, and refer to Vel'hop, Strasbourg' city bike company. And that's it.
Here are some additional pieces of information:
You can book a bike online on the Vel'hop website. If you are planning on using the bike for a short period of time (less than 24 hours), or on the contrary, are looking for long-term hire (more than 3 weeks -in that case you cannot book online, though), Vel'hop appears to offer the most appealing prices. It costs €1 per hour (up to 5 hours), €5 for half-a-day (5 to 12 hours) or €10 for a day, and the bikes come with a basket. Moreover, they only ask for a €150-deposit.

Bicycle shops and repair shops, such as Esprit Cycle and Rustine et Burette, also have rental options. They have better prices if you are looking to rent a bike for a couple or a week. However, it's worth to keep in mind that:
1) contrary to the Vel'hop shops, they are always close on Sundays (Vel'hop shops are open on Sundays during the Spring and Summer) and on Mondays during the low season,
2) they ask for a higher deposit.

The website Alsaceavelo / CyclingAlsace can help you find shops where you can rent a bike in the region (not only in Strasbourg, but also in the neighboring cities), and lists cycle paths, and tour suggestions. However, the English version of the website doesn't appear to be as helpful and informative as the original website in French..
As for city tour by bike, it appears that Viator, an affiliate of TripAdvisor, offers different types of tours, from €35. In my opinion, this appears a little bit expensive considering that for €35, you can rent a bike for an entire day and buy a tour guide, thus touring the city at your own pace, and choosing which spots you would like to go to… But as I have not tried those tours yet, this comment only reflects my own preferences and beliefs.
So here is a quick one for you, Dear Visitor of the Internet: Have you ever tried biking tours in Copenhagen, Amsterdam, or Strasbourg, or elsewhere? Would you recommend it?
As for myself, my new goal is now to find my new two-wheel companion, since I feel like biking around Strasbourg is very safe, and could help me save some time, when going from point A to point B.
For more information:
---
---