Pirate Days: Chasing the Deep Blue, Fish & Dragons in Komodo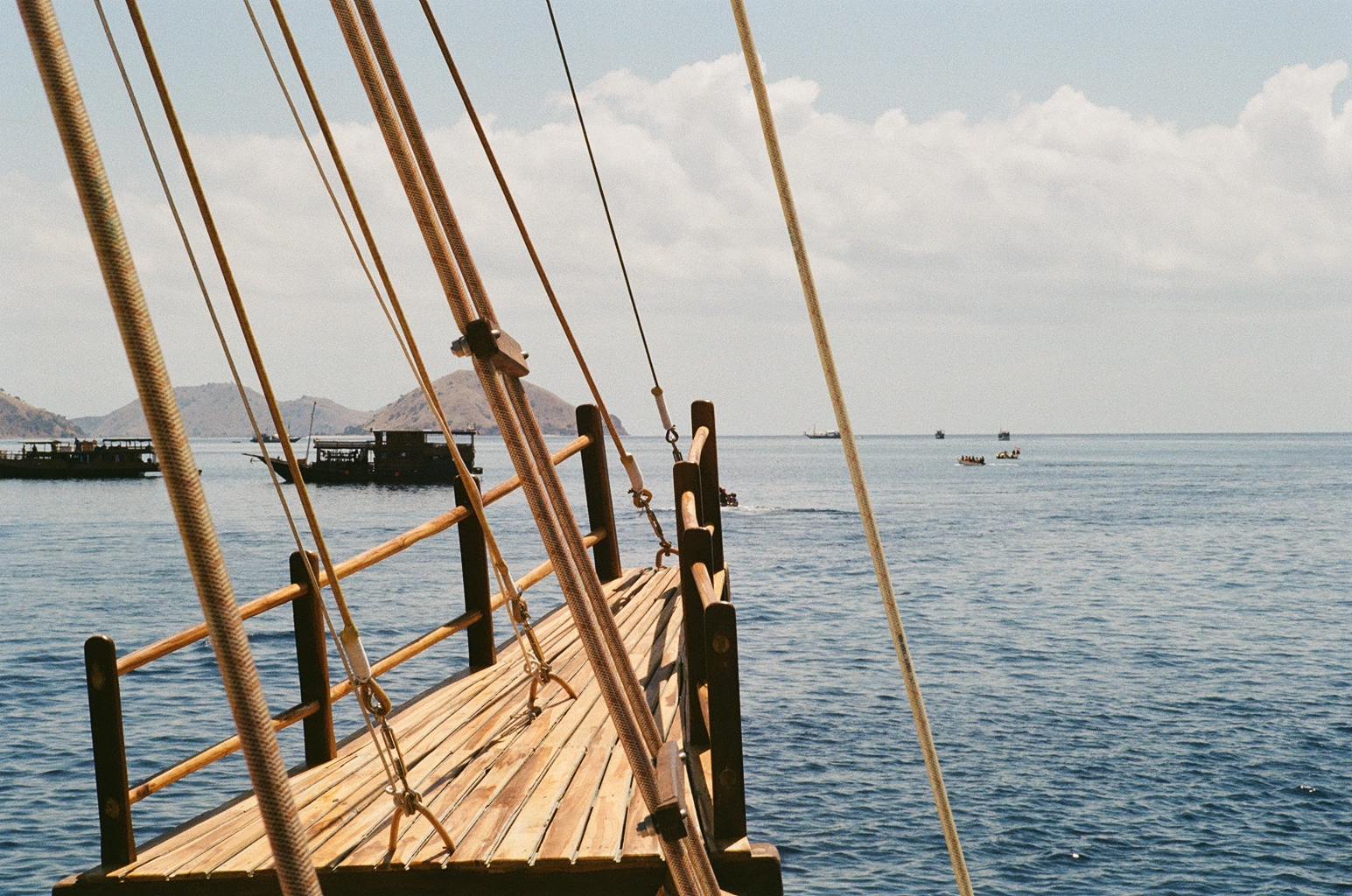 A few months ago, my friend D. decided, on a whim, to charter a boat to tour the Flores archipelago and visit Komodo, over Singapore's national day weekend (August 9, and the weekend after, if you were wondering). She texted me, one night, asking if I wanted to join the cruise. I was a bit hesitant at first, as I knew that she wanted to dive, and that most of the other cruise-goers would be diving too. I had never tried scuba in my life, and starting in Komodo wasn't really an option due to the strong currents. "But you can also snorkeled!", she said.
And that's how on August 9, I flew a small aircraft (not a propeller plane, at least!) from Bali to Labuan Bajo, a small fishing town on Flores island, that has been equipped with a tiny airport to allow tourists to come see the dragons. The flight attendants prayed for the safety of the flight (how reassuring), and after a hour flying over blue waves and tiny rocks, we reached Labuan Bajo. It was almost noon when we arrived at the harbour. The sun was rising high in the sky, and so was my excitement. In front of us, dozens and dozens of boats, big and small, old and new, were slowly swaying on the silver sea, waiting for holiday-goers to embark. And here I was, standing on the pier, about to board the dinghy that would take us to our boat, the Cordelia, a beautiful phinisi (a traditional Indonesian sailing boat).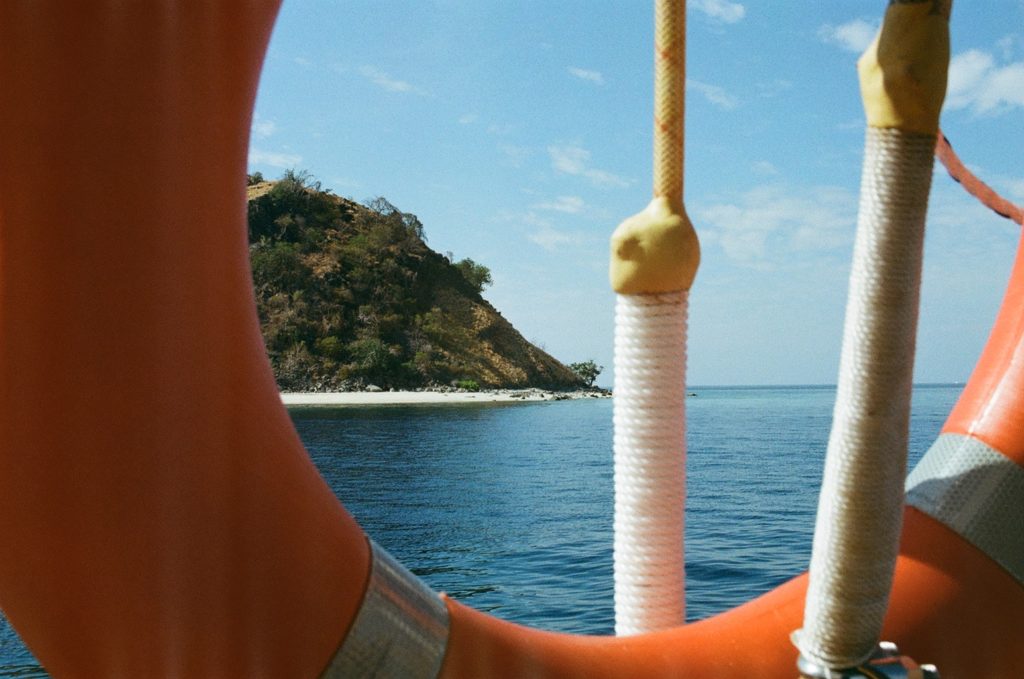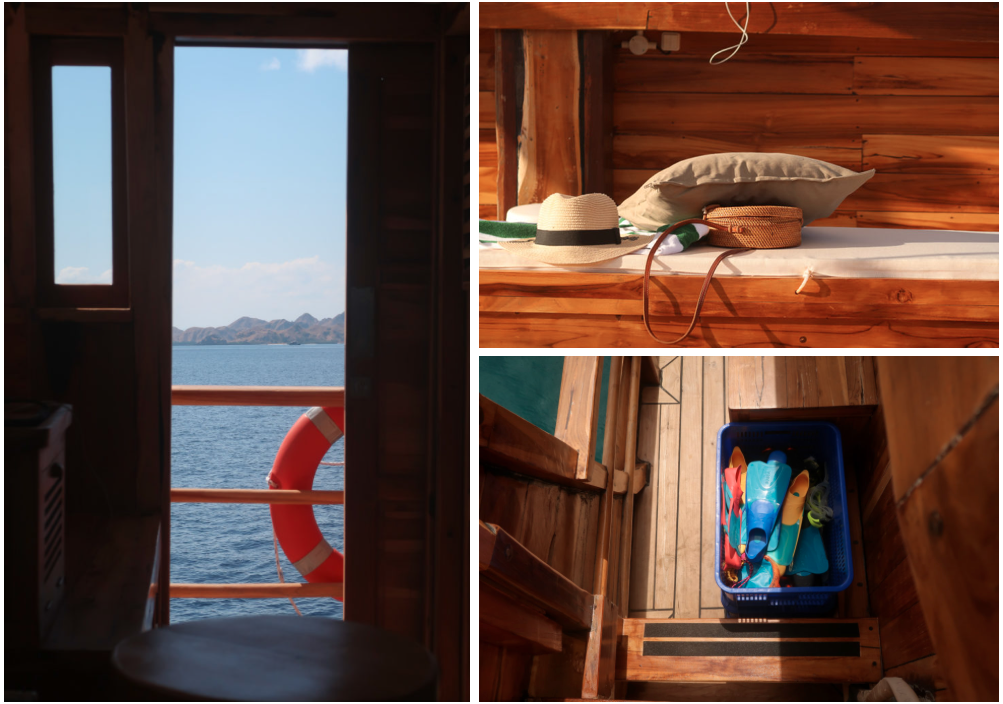 As we stepped on the main deck, a goofy smile appeared on my face, that would not fade for the next three days. After a quick safety briefing, we started running up and down, checking the sun-deck and our rooms, and taking pictures, until lunch was served. The Cordelia was already cruising towards the first dive spot, Sebalon Kecil. We ate, the divers (i.e. everyone but me) checked their equipment, we took more pictures, and then the boat anchored. It was time for our first dive –and for me to be introduced to this brand new world. I witnessed my first pre-dive briefing, admired the pretty map that our dive master Rizal had sketched in only a couple of minutes, and tried to understand what was going on -which was all the more complicated so than this briefing was more technical than usual briefings, as currents were very strong at this particular spot, and the divers would have to do a "negative entry". I was strucked by this phrase. And then, Rizal turned to me, for "the pre-snorkel briefing" (safety instructions, about what to do if I drift, get tired, etc.).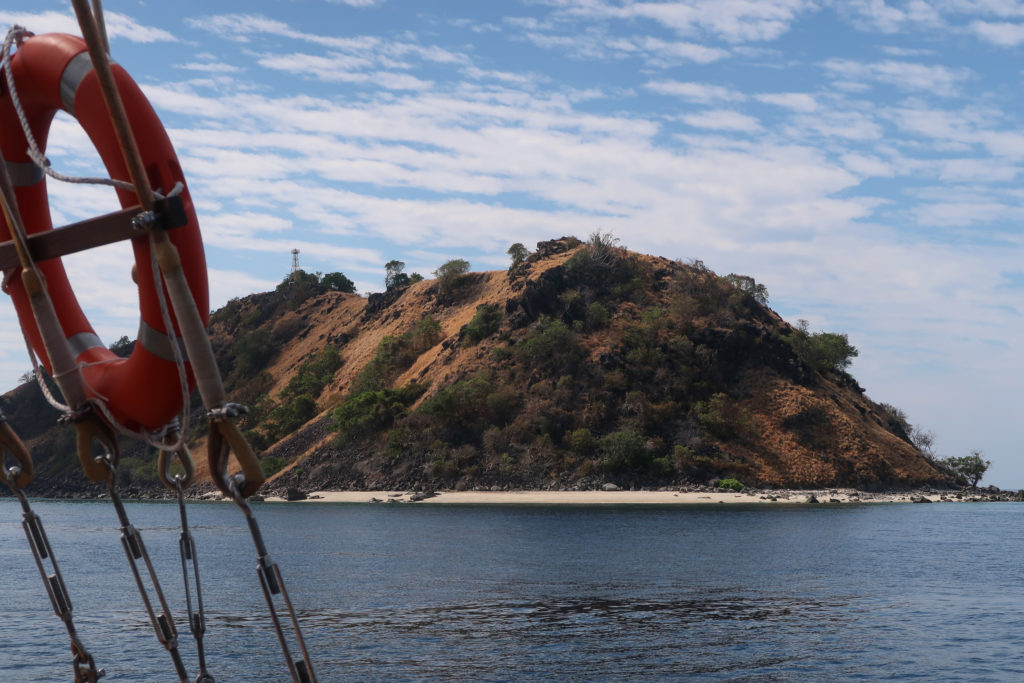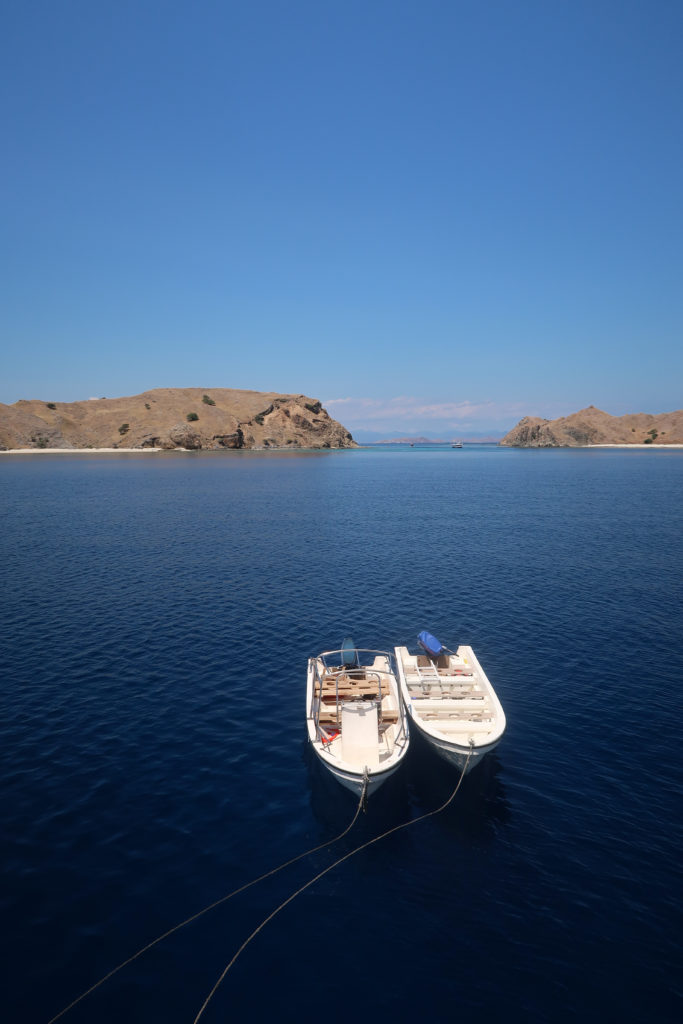 As soon as the briefing ended, our quiet boat turned into a busy hive. Everyone was checking their camera, getting in their wetsuit, cleaning their masks, putting on a special watch (a dive computer, that can tell you how long you can stay down under, without excessing your no-decompression time, as I would learn). In less than 10 minutes, everyone was ready, and we went on the dinghies again, to reach the dive site. Buddy-check. Everyone checked their straps, their air, that they were not missing anything, and on the cue of the dive master, they back-rolled, and disappeared under water (that is, if you were wondering, what a negative entry is: everyone jumps into the water at the same time, and starts their descent immediately, in order to avoid drifting and missing the spot because of the current). That scene was particularly JamesBondesque, and I'm really mad that I lost the footage due to the unreliable look-alike-Go Pro and casing that I had gotten from Sim Lim Square in Singapore (but hey, fake stuff, what did you expect). Then it was my turn to get into the water.
I had swam with fish before. But close to the beach, not by coral reefs. It was like discovering the sea for the first time. So many colorful and different-looking fish were swimming around! Going somewhere, checking out the coral, not really paying attention to me. And the noise! I realized that this very cliché paraphrase, "the silent world", could not be more wrong. I could hear creaking sounds, and some kind of gulps, and chirping. Could fish be talking? (spoiler, yes they can, and if you have 7 spare minutes, I would recommend watching this beautiful documentary, "The secret sounds of fish"). And the corals! Some look like vases (D. had to tell me afterwards that it was a coral, because I would never have guessed otherwise), some were more like giant lettuces. I was in awe. I could have stayed for hours, but the divers were surfacing, and so we went back to the Cordelia, where fresh scented face-towels and snacked awaited us (<3).
And so here is how 60 hours went by. Pirate Days. Running around, barefoot, taking hundreds of pictures, until it was either time for fish, or for food. Sunsets were amazing, food was amazing. Sunrises were incredible as well, and if you had told me that my roommate would set her alarm at 5:30 in the morning, I would certainly have refused to share the cabin with her. But it worked out perfectly. I would hear the alarm, and continue to sleep for another 30 minutes (which I normally cannot do), and then woke up perfectly rested (a hour before 7!), grabbed my cameras, ran to the main deck, and took pictures. It was then time for the first (!) breakfast (toasts), first dive, second breakfast (delicious savory Indonesian food; likewise, if you had told me that I would be able to eat salty food before 10 am, I would not have believed you), second dive, lunch, nap or picture time, third dive or island exploration, snack, option for night dive. I could not have dreamed of a more perfect holiday. No decision to make. Just enjoying the sun, the sea, the food, soaking up the good vibes, and making memories.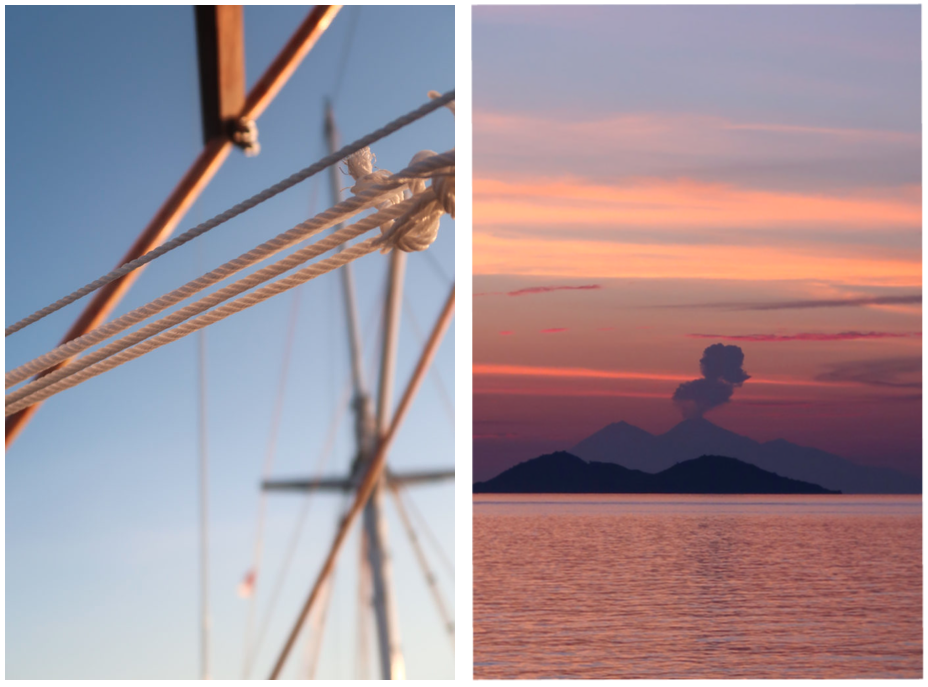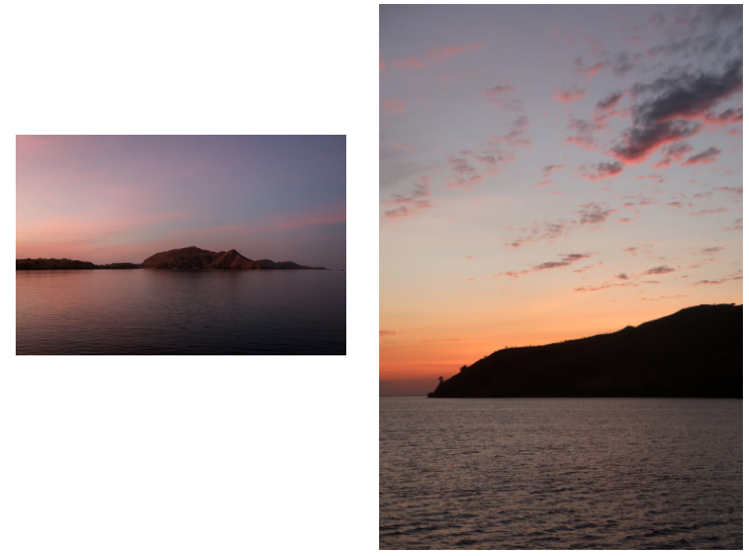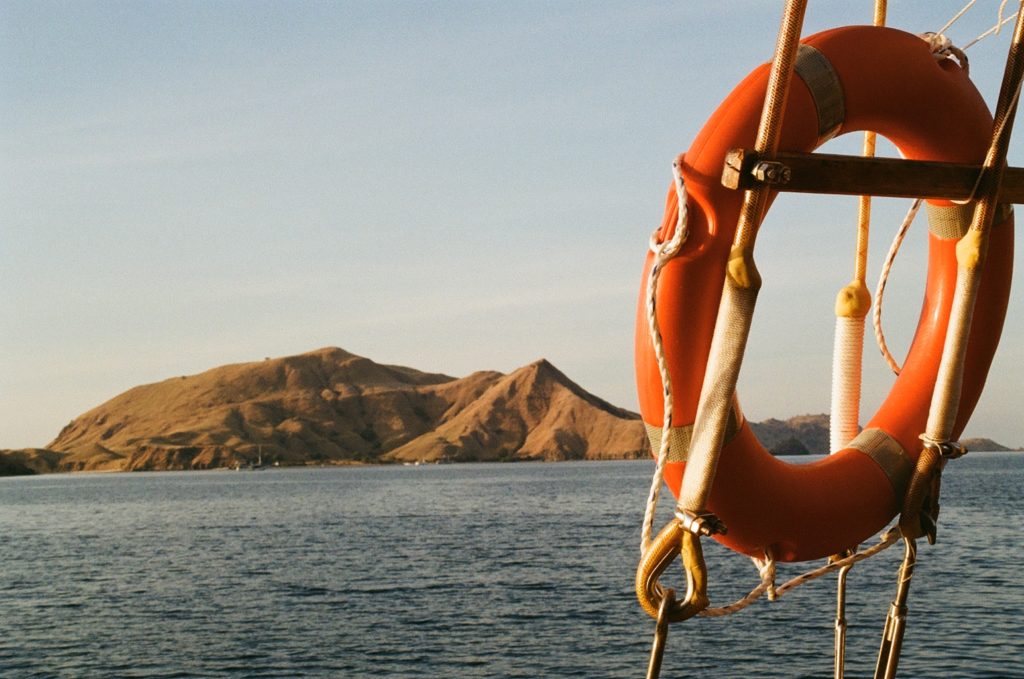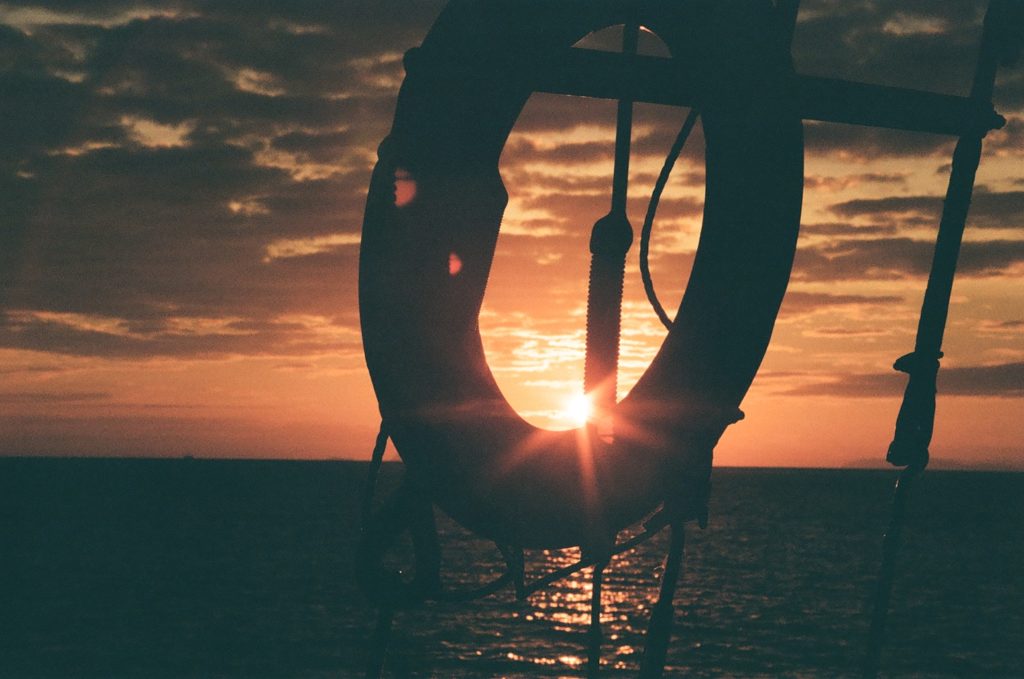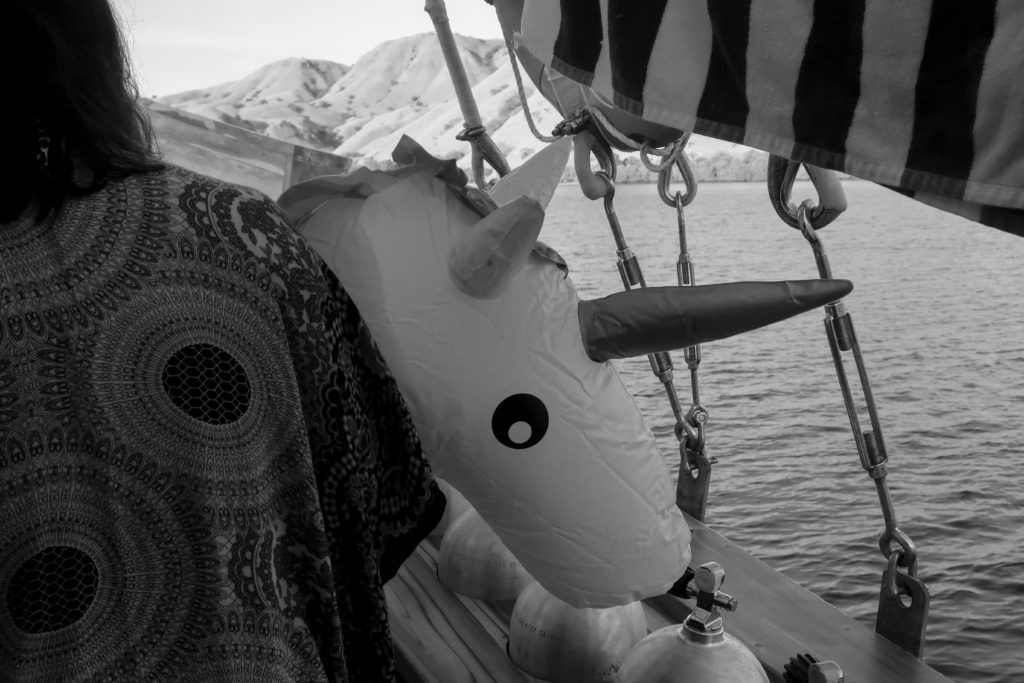 On the second day, we used the air to inflate E's floaties, and launched an impromptu unicorn race before dinner.
On the third day, I kind of did my discovery scuba session. At the end of the morning dive, D.'s dad still had some air left, and so he handed me his octopus (the spare mouthpiece) and let me snorkel without the snorkel, breathing air. I sounded like Darth Vador when I breathed. So loud! I was also surprised that the air did not have a special taste or anything (well, it's just air, the same as the one we breath on land, but under pressure). Also, the feeling of breathing when your head is under water and your nose pinched by a mask is very strange. But overall, I founded it fun. And decided that I would learn how to dive, because I was a bit jealous of the divers that I could see, 20 meters below me, swimming with a reef shark! Not to mention the tiny fish hiding in the corals that they could approach, and the crazy slugs and life they saw at night.
Later in the afternoon, we stepped foot on land for the first time in 48 hours! Off to Pink Beach we were (which is not as pink as on Instagram, it's a filter, but it's very beautiful nonetheless), and then back to the Cordelia, which took us to Rinca Island, to meet the Dragons.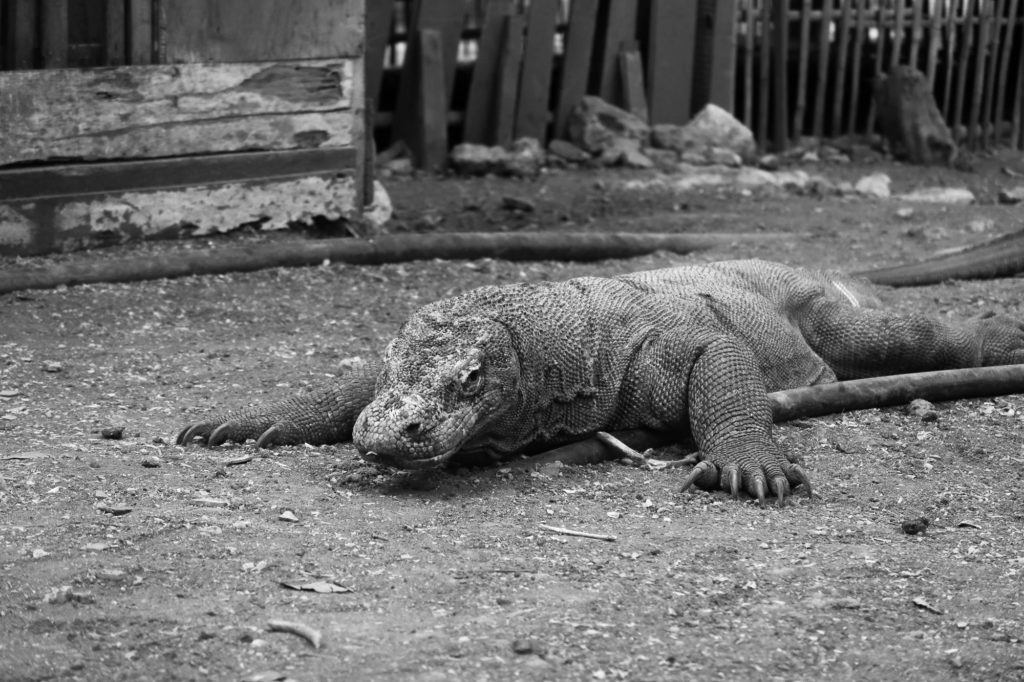 When we saw the first dragons, and they saw us, I was stopped smiling. What were the giant lizards thinking about? Why were they looking at me with such an intense look in their eye? At the back, deers roamed carefree. mhhhh. And then, like in a typical horror movie, our group split, because E. had lost some electronic on the way, and wanted to go back to get it. And that's when we cross-pathed with a moving dragon. It was walking in an rather awkward yet fierce way, very determined. "Get out of the way!", said our guide. So we climbed on the hill, and watched her (for some reason, I want this one to be a she) pass. We cried at E. Luckily, nobody got hurt. We finished our trail, and went back to the boat. We were supposed to see bats flying around at some special bat-cave-island, but unfortunately, we did not make it in time for sunset. At night, we reached Labuan Bajo. That was our last night on the boat.
On Monday morning, we lazed around, did a bit of yoga (for the sake of saying that we exercized during this trip), packed, and in the afternoon, we disembarked. I had a few hours to kill before flying back to Bali, so I walked around Labuan Bajo. It was time to wave goodbye to the sea, to the Cordelia, our home for three days. I wished to be back, diving this time, to go on more dive trips, and live the Pirate's life, again.
Six months later, on February 9, 2020, I am a certified Advanced Diver, I miss the salt in my hair and the sun kisses, and sometimes, I listen to our Komodo playlist -Pirate Days.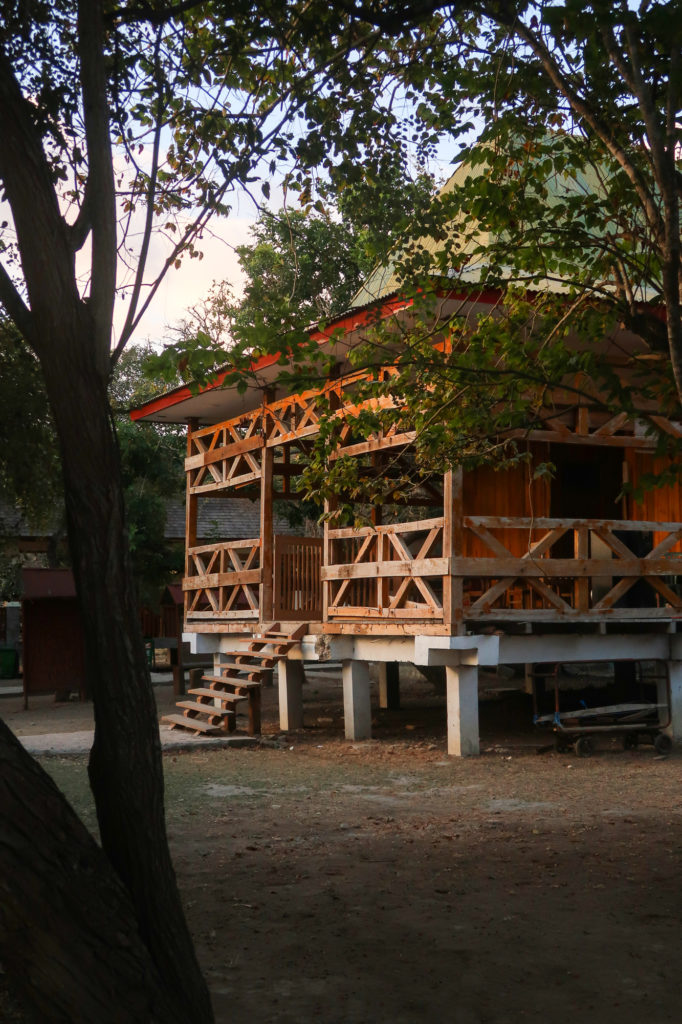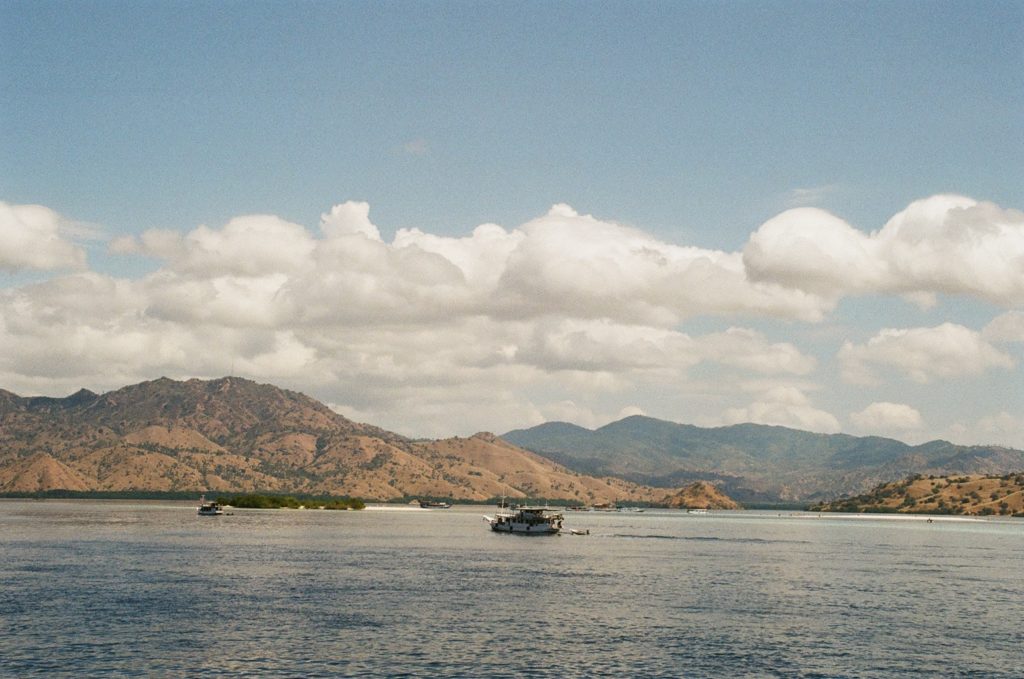 ---
---